Server Management Services USA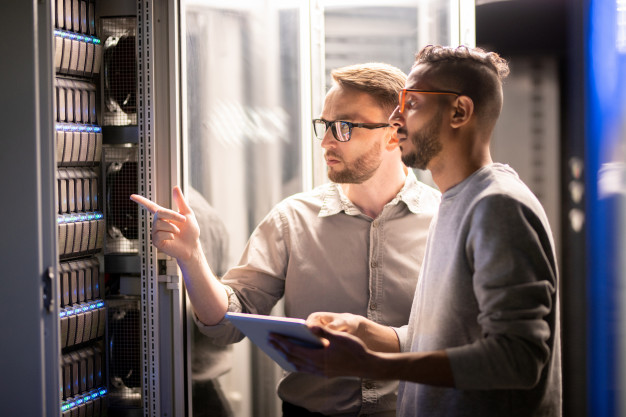 Server Management can be defined as the tasks and services which are done on a server to manage it. Everyone owning a server requires a server management service. Big companies and website developers require professional server management service so that they may take care of other core activities of their business.
Features of Server Management
Some common features of server management are:-
Monitoring : Monitoring of the server and the applications running on the server is important. Continuous monitoring helps in checking the status, uptime and identifying of new or any recurring issues on the server.
Update : Updating the server and the software present on the server on a regular basis is important. Regular update is an important part of the server management process.
Setup and Configuration : It is the actual setup and configuration of the server along with the software and services which are deemed to run on the server. It is an essential part of any server management program. Any mistake in the setup and configuration can lead to the crashing of the server.
Save Money: Through server management services, you can save those extra pennies which otherwise will be spent on the team for server management. Server management involves backups, uptime monitoring, updates and troubleshooting. Outsourcing this work will make you free from all such tasks along with saving money.
Benefits of Server Management
Some common benefits of server management are:-
Expertise : The tiring work of the server is done by the experts. A business should leave the server work to the professionals to whom it's a daily job and to people who are experienced as well as skilled for managing the server efficiently.
Stress Reliever : A business can be stress free when they know that there are experts present who have been given the work of regular update and security of the server. A business would not need to stay updated on the latest security patches and releases as their server will be taken care of.
Faster turnaround Time : The turnaround time for server issues and tasks take at least few hours for troubleshooting and research. Having experts to look after a server can help a business solve their server issues within minutes, hence saving a lot of time. This still depends on the severity of the issue but when compared to the time taken usually, having experts can help solve issues much faster and with much ease.
24/7 Support : Server management experts are usually available all day long. Even if a business faces a server issue at midnight, experts would be there to solve the problem as soon as possible.
Why Choose Us?
Our company helps you manage your servers efficiently with our server management services USA which is backed with team of experts. We take care of your server so that you can take care of your business. Our server support works 24/7 so that our clients' never face any trouble and can run their business smoothly.
For more information please contact us today!