Network Management Services Estonia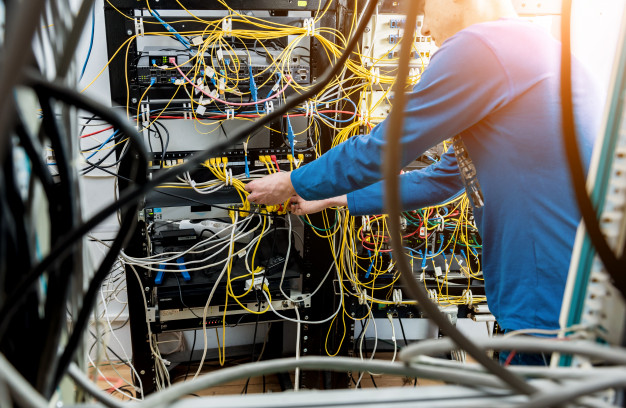 Network management is all about administering, managing, and operating a data network, using a network management system. A day, both software and hardware are used for network management. Network management uses this hardware and software to collect data, analyze data, and make configuration changes to improve performance, reliability, and security.
Our network management services in Germany, Austria, Belgium, Norway, Netherlands etc. deals with operating, managing, and monitoring voice, and data network. Network management improves the smooth management of your infrastructure. In this highly competitive digital world, network management is something that cannot be ignored. Every action you made in your venture must be precise, tandem with delivering high quality, secured, and well maintained. Network management is the only solution foto achieve all this.
The network management system includes five areas of management shortly called FCAPS, where it deals with-
● Fault management
● Configuration management
● Account (administration) management
● Performance management
● Security management.
These are the fundamentals we must be careful about. So a network management system makes our job easier. A network management system helps to achieve the necessary tools for the care and feeding of the enterprise network without excessive manual intervention.
How does a network management system help?
It basically helps in-
● Fault identification
● Network provisioning
● Network monitoring.
● Server monitoring
● Monthly status reporting.
● Anti-virus software management and so on
Now let us discuss the benefits of the network management system.
Optimized operations :
A network management system work as a whole. The network management system consists of several individual services helpful for your business. So optimizing all these services are tiring for a single person, so that network management system will help you to achieve that.
It is a digital platform, so everyone should not be aware of its formats. That's why we need an expert. But it is not easy to hire the right person to do that. A network management system will be with you to hire and train network professionals capable of preventing, diagnosing, and solving your network issues.
Routine monitoring is the best way to prevent all the problems or offences against network issues. Regular monitoring will help to be one step ahead of any trouble that could happen. Routine monitoring will help to reduce risks at the begging stage.
Critical features of network management services-
● Organization
● Integration
● Signal coverage
● Device connection
● Device locations
● Performance management like bandwidth and troubleshooting
● Universal compatibility
All of these are the key features of network management.
About The Company
ALGSupport provides best network management services in Estonia, Germany, Austria, Belgium, Norway, Netherlands etc. with a very professional team. We can provide you with the most talented experts who can quickly and carefully manage your network. Also, we provide you better service and 24 hours customer care service. We believe that trust is the most important between us. We have 100 % transparency in what we do.
For more information please contact us.